HESTERMANITE
A Very Rare Highly Mineralized Marble
From Pinal County, Arizona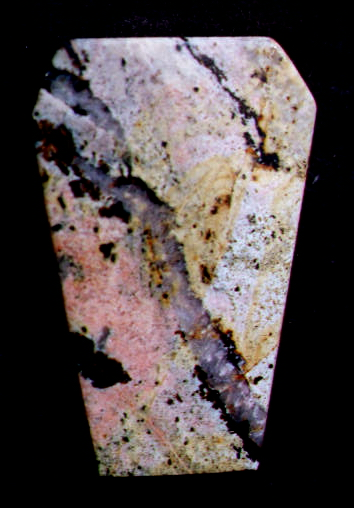 Welcome to the Hestermanite Web Page

"Hestermanite" is a very rare highly mineralized marble, a massive form of "Ankerite"
and was discovered in 1968 by the late James S. Hesterman.

The crystal form was discovered by Austrian mineralogist, Professor M. J. Anker. The suffix "ite" means "associated with", hence the name Ankerite.
Mr. Hesterman discovered the massive form, or rock,
which is now officially designated as Hestermanite. The location discovered by Mr. Hesterman
is the only known deposit of Hestermanite in the world.

Hestermanite is found in the mountains of Pinal County, Arizona (USA)
in areas with a significant limestone concentration.
Colors come in red, pink, green, blue, yellow, brown and black.

For additional information about Hestermanite,
e-mail your inquiry to zacharyj@juno.com
or send a self-addressed, stamped envelope to
Joanne Hesterman, 208 N. Kodz Road, Payson, AZ, 85541 (USA).


Return To The Top Of The Page

Design by Webmaster
Modified & Maintained by
John Hesterman Productions

HOME

Copyright © 2012, All rights reserved.